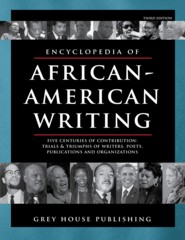 "Finding information about African American writers has always entailed searching a variety of resources ... the benefit of having information on so many authors in one place cannot be overstated. Recommended for high school, public, and academic libraries."
-Booklist
"Hatch ... and Strickland ... are to be commended; no other single work seeks to include all past and present African American writers of significance in such an affordable format ... The comprehensiveness of the work, its affordability, and the promise of future updates make this an appealing choice for all public and academic libraries."
-Library Journal
"While novelists, poets, and playwrights do figure prominently, the intention is to include influential writers from all walks of life ... This inclusiveness sets this guide apart from many others available ... The result is a handy new tool which will serve a wide audience in school, public, and academic libraries."
-Lawrence Looks at Books

Encyclopedia of African-American Writing
Five Centuries of Contribution: Writers, Poets, Publications, Trials & Triumphs Through American History
Pub. Date: May 2018
Hardcover: 1134 pages
ISBN: 978-1-68217-718-1
Price: $165.00

A timely survey of an important sector of American letters, The Encyclopedia of African-American Writing covers the role and influence of African American cultural leaders, from all walks of life, from the 18th century to the present. Readers will explore what inspired various African-American writers to create poems, plays, short stories, novels, essays, opinion pieces and numerous other works, and how those writings contributed to culture in America today.
Section One: Profiles
This section, with 800 detailed profiles, includes 30 brand new entries and hundreds of updated entries. You'll read about the various historical movements that helped shape African-American writing in the United States, including the Civil Rights Movement, the Harlem Renaissance, and the Black Power Movement, as well as writers from the Revolutionary and Antibellum eras right on up to the 21st century. The A to Z profiles include:

MacArthur Fellowship Winners - Jesmyn Ward, Ta-Nehisi Coates, and Chimamanda Adichie
Methodist Preachers - John Marrant, David George, and Boston King
Fiction Writers and Storytellers - Frederick Douglass, Phillis Wheatley, and Hannah Crafts
Section Two: Primary Documents
This section includes actual writings of 42 writers profiled in this edition. Some excerpted, and most in their entirety, these writings take the reader on a literary journey of African-American writing, from the 1635 slavery contract to Alica Garza's "A Herstory of the #BlackLivesMatter Movement."
These documents are categorized into nine sections, and have their own table of contents. Each section is supported by a brief introduction that sets the historical stage of the writing samples that follow.
Section Three: Appendices
This section includes seven valuable appendices:
Chronology of Writers - lists all individual writers by birth date
Chronology of Firsts - summarizes significant "first" events by categories
Graphically designed Timeline - clearly and interestingly overlaps significant events in the writing lives of African Americans with relevant current events
Writers by Genre - categorizes all entries by one or more of 26 genres
Writers by Occupation - categorizes all entries by one or more of 210 occupations
References - give full citations for more than 300 references used throughout this edition
Key to References - helps the reader identify references that are abbreviated at the end of the profiles
More than a collection of biographies, this important work traces the evolution of African-American writers, their struggles, triumphs, and legacy, this volume is not to be missed. A comprehensive, easy to use source that will complement the reference collection of any public, high school or university library, and will prove useful to all university humanities and African American studies reference collections.
---
This edition comes with FREE ONLINE ACCESS on the popular Salem Press platform, https://online.salempress.com. With unlimited users and remote access included, your students and researchers can now search this amazing collection of data, anytime & anywhere, all just a click away.
Pub. Date: May 2018
Hardcover: 1134 pages
ISBN: 978-1-68217-718-1
Price: $165.00



Note: If you find this work does not fit your budget, please print out this page and bring it to your local library. There is a reasonable chance they either have a copy, can direct you to a library that does, or will be willing to purchase it for their reference collection.