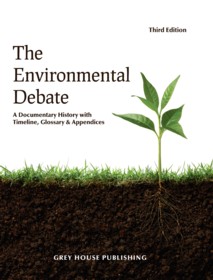 Choice Outstanding Academic Book
"Highly recommended for undergraduates and up."
-CHOICE
"This collection of original documents will provide students with a new perspective on controversial environmental issues."
-The Book Report
"This collection of primary documents examines the evolution of concern about environmental degradation, pollution, and resource conservation in America from the colonial period to the end of the twentieth century. The book, with its broad array of perspectives, will be a welcome resource for students wishing to explore controversial environmental issues from as many different angles as possible."
-Abstracts of Public Administration, Development, and Environment
The Environmental Debate: A Documentary History
Third Edition
Pub. Date: September 2017
Hardcover: 387 pages
ISBN: 978-1-68217-550-7
Price: $165.00
EBook ISBN: 978-1-68217-551-4 EBook Vendors
Request a

for your library


This unique collection of 185 Primary Documents, 17 of them new, examines the evolution of concern about environmental degradation, pollution, climate change, and resource conservation in America, from the Colonial period, to the present day, and looking forward towards the future. Most importantly, it addresses those topics that are causing the most controversy-global warming, clean power, and the U.S. withdrawal in 2017 from the Paris Accords on climate change.
Chapters are arranged chronologically to illustrate how environmental thought has changed over time. Chapters cover:
Foundations of American Environmental Thought & Action
Politicians, Naturalists and Artists in the New Nation 1776-1839
The Origins of Environmental Activism, 1840-1889
The Roots of the Conservation Movement, 1890-1919
Rethinking Our Relationship to Nature, 1920-1959
The Heyday of the Environmental Movement, 1960-1979
Confronting Economic & Social Realities, 1980-1999
NEW! Politicizing the Environmental Debate, 2000-2017
These documents chronicle the evolution of environmental movements in the U.S., and show how environmental interests and organizations have evolved alongside changing social, economic, and political conditions, and changing American views about the environment. These documents reveal patterns of changing attitudes about three fundamental environmental issues: conservation, pollution, and the human-nature relationship.
Special Features
General Introduction - a clear, detailed view of the often-complicated environmental issues that are the subject of the primary documents.
Appendix I - Significant Dates in American Environmental History
Appendix II - Major International Environmental Organizations
Glossary
Further Reading
Notes, Copyright Acknowledgements, Index
The Environmental Debate offers unequaled coverage of one of the most debated topics in American history. This updated third edition, with its broad array of perspectives, will be a welcome resource for students wishing to explore controversial environmental issues from as many different angles as possible.
---
Buy the Print and Get Free Online Access on the Popular Salem Press Platform!
The Environmental Debate comes with FREE ONLINE ACCESS on the popular Salem Press platform, http://online.salempress.com. With unlimited users and remote access included, your students and researchers can now search this amazing collection of data, anytime & anywhere.
Also Available:

Pub. Date: September 2017
Hardcover: 387 pages
ISBN: 978-1-68217-550-7
Price: $165.00
EBook ISBN: 978-1-68217-551-4 EBook Vendors


Note: If you find this work does not fit your budget, please print out this page and bring it to your local library. There is a reasonable chance they either have a copy, can direct you to a library that does, or will be willing to purchase it for their reference collection.