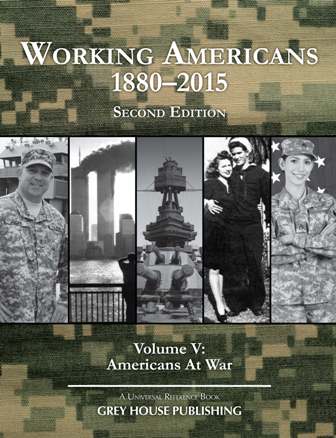 New Edition of this Volume from Grey House!


Working Americans 1880-2015
Volume V: Americans At War
Pub. Date: June 2015
Hardcover: 600 pages
ISBN: 978-1-61925-743-6
Price: $150.00
EBook ISBN: 978-1-61925-744-3 EBook Vendors
Request a

for your library


Working Americans 1880-2015, Volume V: Americans at War examines the lives of Americans during the time of war, including declared conflicts, one-time military actions, protests, and preparations for war.
This is the seconde edition for this title and has been extended its period of examination to 2015, and includes the most recent conflicts America is facing, including those in Afghanistan and Iraq.
Americans at War contains 38 Personal Profiles from the battlefield and the home front that tell the stories of civilians, soldiers, and officers during each decade covered. Profiles range widely not only geographically, but also emotionally, from that of a girl whose leg was torn off in a WWI blast to the ongoing effects of the September 11, 2001 attacks on the World Trade Center. They include volunteer soldiers, eager to effect their patriotism in the trenches of battle; antiwar advocates decrying the disasters of discord; and those who were moved to action by the deaths of family members at the hands of war. The underlying and integral thread that links every person profiled is their first-hand experiences of what it means to be an American at war.
As in previous volumes of the Working Americans series, information is presented in narrative form, but hard facts and real-life situations back up each story. The basis of the profiles come from diaries, private print books, personal interviews, family histories, estate documents and magazine articles.
In addition to personal profiles, chapters include several other helpful elements:
Historical Snapshots: Chronicles major events and milestones, allowing the reader to develop a broader understanding of the time period.
Timelines: Defines the background and key events of a particular issue important to the time period.
News Features: Excerpted from the local media, these interesting articles bring to life current issues in society that affected average working Americans.
Selected Prices: Examines what things cost during the time period, to further enrich the reader's understanding of how working Americans spent their paychecks. Prices include food items, clothing, jewelry and so much more.
Illustrations: Photographs, news clippings, advertisements, postcards, posters, quotes, songs and cartoons, add interest to each chapter and depth to the reader's understanding of the world that the family or individual lived in.
New Subject Index: Provided to navigate this wealth of interesting and useful information.
---
PRINT EDITION BUYERS RECEIVE FREE ONLINE ACCESS!
All Working Americans titles come with FREE ONLINE ACCESS for even faster, easier access to this vast array of information. With unlimited users and remote access included, your students and researchers can now search this amazing collection of data, anytime & anywhere. All it takes is a print purchase to activate your online access!
Additional Volumes:
Working Americans 1880-2012 Volume I: The Working Class, Second Edition
Working Americans 1880-1999 Volume II: The Middle Class
Working Americans 1880-1999 Volume III: The Upper Class
Working Americans 1880-1999 Volume IV: Their Children
Working Americans 1880-2005 Volume VI: Women at Work
Working Americans 1880-2006 Volume VII: Social Movements
Working Americans 1880-2007 Volume VIII: Immigrants
Working Americans 1770-1869 Volume IX: From the Revolutionary War to the Civil War
Working Americans 1880-2009 Volume X: Sports & Recration
Working Americans 1880-2010 Volume XI: Inventors & Entrepreneurs
Working Americans 1880-2011 Volume XII: Our History through Music
Working Americans 1880-2012 Volume XIII: Educators & Education
Working Americans 1898-2016 Volume XIV: African Americans
Working Americans 1880-2018 Volume XV: Politics & Politicians
Pub. Date: June 2015
Hardcover: 600 pages
ISBN: 978-1-61925-743-6
Price: $150.00
EBook ISBN: 978-1-61925-744-3 EBook Vendors


Note: If you find this work does not fit your budget, please print out this page and bring it to your local library. There is a reasonable chance they either have a copy, can direct you to a library that does, or will be willing to purchase it for their reference collection.