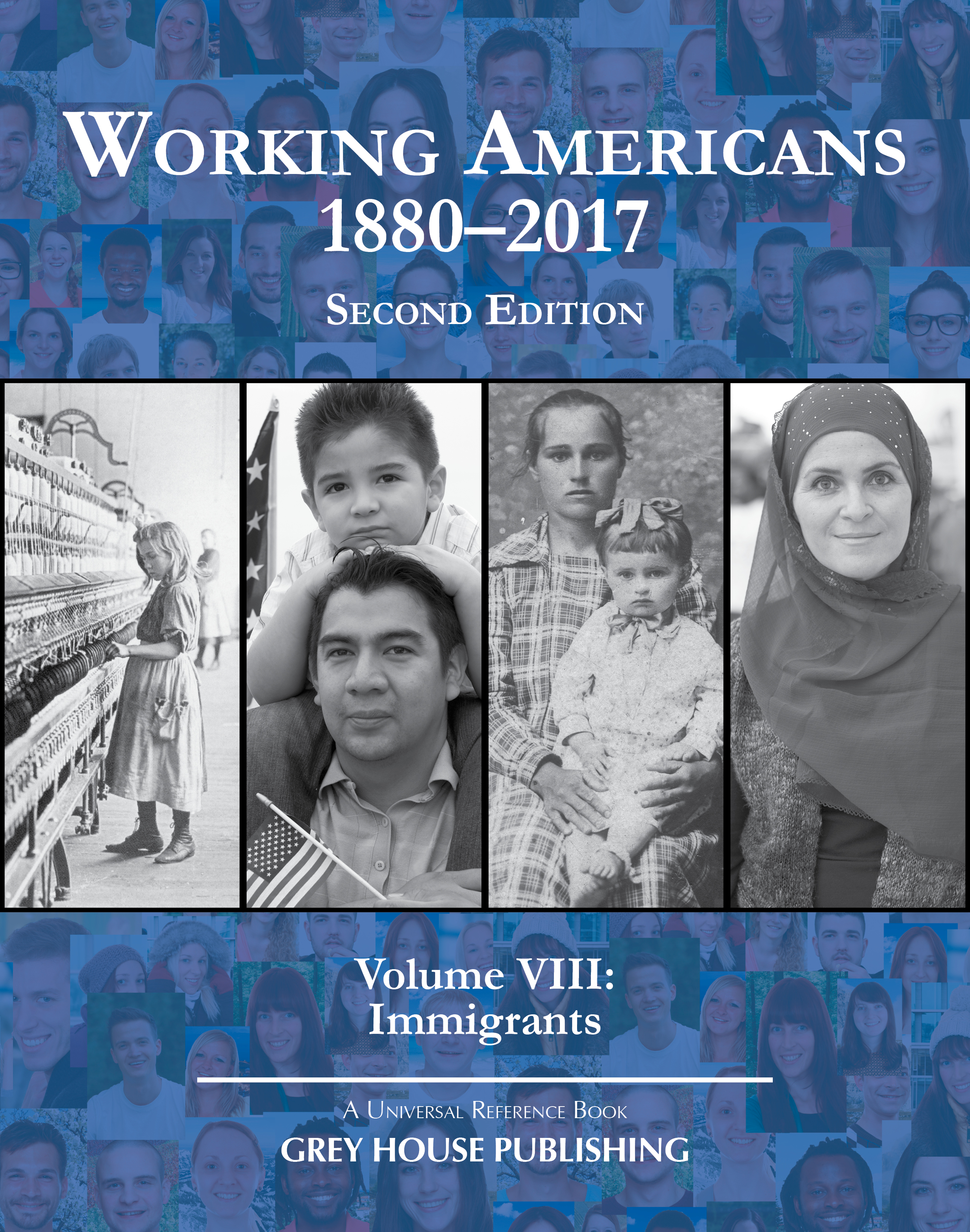 "These interesting, unique compilations of economic and social facts, figures and graphs will support multiple research needs. They will engage and enlighten patrons in high school, public and academic library collections." (Vol 1)
-Booklist
Working Americans 1880-2017
Volume VIII: Immigrants, Second Edition
Pub. Date: November 2017
Hardcover: 600 pages
ISBN: 978-1-68217-745-7
Price: $150.00
EBook ISBN: 978-1-68217-746-4 EBook Vendors
Request a

for your library


Working Americans 1880-2017: Volume VIII: Immigrants updates the previous edition of Immigrants. The unique focus of this volume is that all of the individuals covered are immigrants - born in another country and traveled to America with the intention of living a better life here.It covers men, women, and children from a wide range of countries, social backgrounds, and professions. Some careers focus on fortune, some on fame, some on a regular paycheck, and some on no paycheck at all. All profiles, however, demonstrate the continuous challenge faced by immigrants in America, whether they push papers, teach students, make art, join the armed forces, or give facials.
Completely updated through 2017, this edition adds new coverage of the modern day immigrant experience, plus new material on current issues and rhetoric surrounding the current immigration debate in America.
Following the format of previous volumes in the Working Americans series, the text examines first- and second-generation immigrant families, their search for identity, and the emotions they experience in a new land.
Stretching from the 1880s to the present time, this interesting volume uncovers all levels of the immigrant experience, from those that found success in the U.S. to those that regretted their decision and longed to return to their homeland, all in addition to the changing attitude of Americans towards immigrants.
Arrangement
Profiles are arranged chronologically, in decade chapters. Generally, each decade inlcudes three profiles, and averages 12 pages. Each profile includes:
Brief Introduction & Photograph of the Subject
Details About the Journey from the Subject's Native Land
About the Transition to American Culture
Historical Snapshot - collection of first and significant events that happened in the year profiled.
Selected Prices - present the cost of a number of everyday items
Original Source Documents - including magazine and newspaper articles, speeches, letters, and diary entries
New to this edition, is a Facts & Figures section - 24 pages of current facts and statistics from the Office of Immigration Statistics - including information on U.S. Lawful Permanent Residents, U.S. Naturalizations, and DACA (Deferred Action Childhood Arrivals). Further Reading and Index end the volume.
The text is presented in bulleted format, and supported by hundreds of graphics - from personal photographs to political material and advertisements. This volume celebrates those who have immigrated to America, chronicling both the progress they have made and the roadblocks they have faced. In a detailed fashion, the profiles and primary source materials help the reader reflect on immigrants and their transition not only into the workplace, but into a new country.
---
The Working Americans series has become an important reference for public, academic, and high school libraries. This brand-new edition, in print and online, will be a welcome addition to all types of reference collections.
Buy the Print and Get Free Online Access on the Popular Salem Press Plaform!
All Working Americans titles come with FREE ONLINE ACCESS on the popular Salem Press platform, http://online.salempress.com. With unlimited users and remote access included, your students and researchers can now search this amazing collection of data, anytime & anywhere.
Additional Volumes:
Working Americans 1880-2012 Volume I: The Working Class, Second Edition
Working Americans 1880-1999 Volume II: The Middle Class
Working Americans 1880-1999 Volume III: The Upper Class
Working Americans 1880-1999 Volume IV: Their Children
Working Americans 1880-2003 Volume V: Americans At War, Second Edition
Working Americans 1880-2005 Volume VI: Women at Work
Working Americans 1880-2006 Volume VII: Social Movements, Second Edition
Working Americans 1770-1869 Volume IX: From the Revolutionary War to the Civil War
Working Americans 1880-2009 Volume X: Sports & Recration
Working Americans 1880-2010 Volume XI: Inventors & Entrepreneurs
Working Americans 1880-2011 Volume XII: Our History through Music
Working Americans 1880-2012 Volume XIII: Educators & Education
Working Americans 1898-2016 Volume XIV: African Americans
Working Americans 1898-2018 Volume XV: Politics & Politicians
Pub. Date: November 2017
Hardcover: 600 pages
ISBN: 978-1-68217-745-7
Price: $150.00
EBook ISBN: 978-1-68217-746-4 EBook Vendors


Note: If you find this work does not fit your budget, please print out this page and bring it to your local library. There is a reasonable chance they either have a copy, can direct you to a library that does, or will be willing to purchase it for their reference collection.